Artificial grass lawns and more for residential & commercial properties in Wilmington
Our premium quality synthetic lawn turf never needs to be watered or mowed or fertilized saving you thousands in upkeep! Our turf is extremely durable and is designed to perform in hot, cold, wet and dry climates and is the perfect solution for heavy use grassy areas and places that are traditionally more difficult to grow lush green grass, such as slopes, heavily shaded areas, playgrounds, pet areas and more.
You can install our Wilmington synthetic artificial turf in front and backyards, dog runs, recreational areas, playgrounds, sports fields, athletic facilities, even on rooftops or a beautiful extension of your pool decking. There are endless applications for commercial and municipal areas.
For a yard that looks great and stays green year round without the added work and expense of maintaining real grass, install Wilmington Artificial Grass. Our synthetic grass does not look fake. You will feel confident in knowing that it will look as close to real grass as you can get. With our meticulous selection and use of the finest turf combined with our installation and construction techniques, you'll get a quality synthetic lawn that you will proud of.

We specialize in creating beautiful artificial grass spaces that you will use and enjoy for years to come.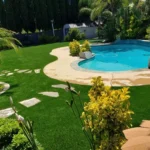 Lawns
Playgrounds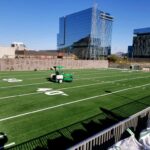 Sports Turf